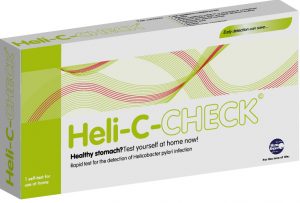 Healthy stomach?
Heli-C-CHECK is a rapid test for use at home to detect the presence of Helicobacter pylori antibodies in whole blood.Heli-C-CHECK is intended as an aid in the diagnosis of Helicobacter pylori infection. The diagnosis must be confirmed by the physician.

Each kit contains everything necessary for the test performance: a test cassette, an instruction leaflet, a solution bottle with sample dilution buffer, 1 automatic sterile lancet for comfortable blood sampling, a glass capillary tube, a pipette, an alcohol pad and a plaster. The results can be read within 10 minutes.
Background
The most common cause of painful inflammation of the stomach lining with nausea and abdominal discomfort is a bacterium called Helicobacter pylori. Chronic inflammation in the stomach (gastritis) or ulcer may have further consequences. Helicobacter pylori bacteria can contribute to the development of diseases, such as ulcers in the stomach and lymphoma progress (a type of cancer).
Here you can download our easy to understand instructions for use which contains additional information about our products.